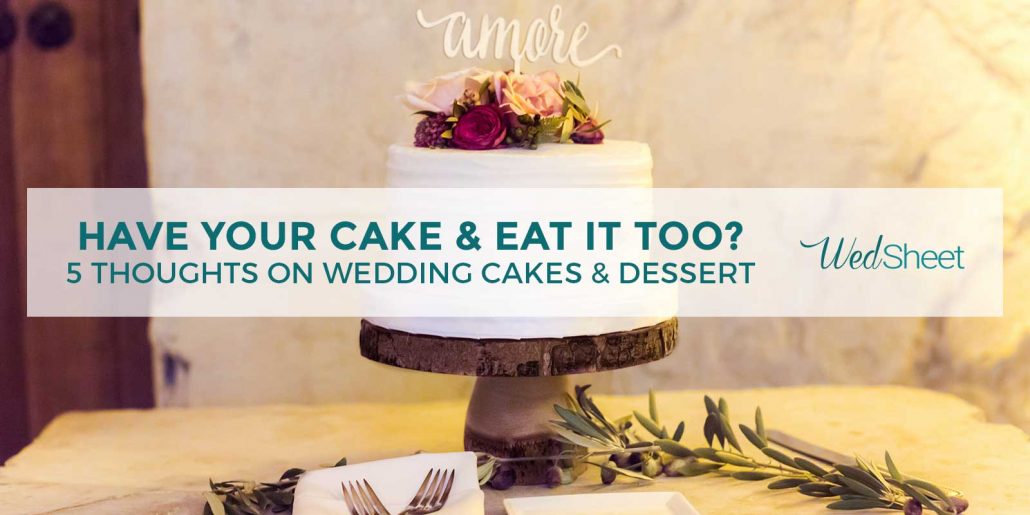 Weddings are full of traditions, and "cutting the cake" is certainly one that continues to be time-honored. However, when working through your wedding budget worksheet (and timeline of the reception), you may look for new, creative ways to satisfy the sweet tooth of you and your guests and maybe even "cutting" cost.
1. Do you and your fiancé even like cake?
I've heard this one SO many times- "we just aren't really cake people". Well, guess what? Chances are, more than 50% of your guests are on the fence about it, too. And wedding cakes aren't cheap- you will quickly see that average cake prices range from $3/slice to more than $50/slice. There are a TON of other ways to satisfy a post-dinner sweet tooth that are much more reasonable, and probably much tastier.
2. Do you want a "cake cutting" ceremony?
The ceremony of cutting the cake is starting to become more and more antiquated. So, where did this tradition even come from? Almost 2000 years ago, early Roman "grooms" would eat a loaf of barley bread and then break the rest over the head of their bride, which signifies prosperity of fertility for the couple. Over time, this tradition developed and people eventually realized that sugary dough tasted better than barley. Voila! You have the inspiration behind the modern cake cutting ceremony that we are all so familiar with. I don't know about you, but I can think of a few other ways to show my love for my fiancé than honoring a 2000 year-old tradition. Plus- there is always a chance for a rogue, cake-frosting-smeared-across-the-face experience, and your make-up took way too long to take that gamble.
3. Have a favorite, unique dessert? Share it with your wedding guests!
We all love a sweet bite after our meal, so if you are omitting cake, show your personality with dessert! Do you love ice cream cookie sandwiches? How about an obsession with mini bundt cakes? Or maybe you are a Thanksgiving junkie and pumpkin pie is your thing. If you and your fiancé have a unique sweet tooth, how fun would it be to get creative and really show your personalities through your dessert? If you are lucky and have an awesome baker or two in the family, see if they would help out by whipping up some fresh baked goods for the occasion. EVERYONE loves a homemade chocolate chip cookie.
4. How much time do you have during your reception?
If you are working with a tight timeline, consider how the time dedicated to cake cutting might interfere with your day. Additionally, it can really alter the mood and flow of the reception to interrupt the DJ blasting out the dance hits to announce the "cutting of the cake".
5. Have you decided on a wedding favor yet?
Another perk of foregoing the cake for a more unique sweet is subbing the traditional wedding favor for your dessert! One of my favorite weddings to date had homemade doughnuts sitting in a customized box at the top of each place setting during dinner. Not only are doughnuts DELICIOUS, but I had the ability to eat my dessert whenever I wanted (sorry Mom, sometimes you just need a sweet bite before dinner). I could also bring back a little "something" from the reception to my hotel room for a much-needed midnight snack. I'm hard-pressed to remember my wedding favor at the end of reception, but remembering a box of doughnuts? Yeah, I got that.
As always, the goal of creating a wedding budget document is to keep an organized eye on all potential expenses, and something as seemingly as small as a cake can cause unnecessary stress. If you are open to something less traditional, have some fun with your guests and your sweet selections.
https://www.wedsheet.com/wp-content/uploads/2018/03/wedsheet-5-thoughts-on-wedding-cakes.jpg
800
1600
Morgan
https://www.wedsheet.com/wp-content/uploads/2017/04/wedsheet-logo1.png
Morgan
2018-03-07 14:28:57
2018-03-07 14:32:19
Want to have your cake and eat it too? 5 thoughts on wedding cakes & dessert