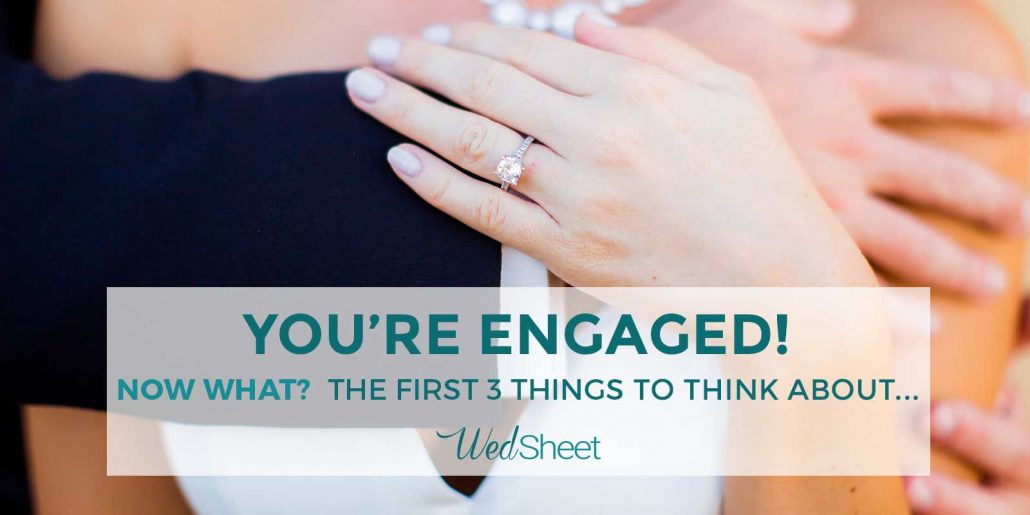 Congrats!  You're engaged!  Now what?
After the celebration and much deserved glass of champagne, the reality likely starts setting in- you have a wedding to plan! This may seem like a daunting task (and it can be!), but first focus on three steps to take before you even start to think about an open bar…
1.  Let's talk money.
While this certainly isn't the most glamorous or exciting topic, you really cannot even consider any other aspect of wedding planning without knowing your budget. While it isn't crucial that you have narrowed it down to an exact dollar amount, finding your ideal "range" will help guide every other decision you make. From venue shopping to catering meetings, cost will be the first topic discussed with each vendor.
2.  Who is invited?
Creating a guest list doesn't need to be a stressful task, but it is crucial to decide quickly if you are having a large, medium or small wedding so you can work on step 3 (below). Having a rough estimate of guest count also helps tighten up the cost of a caterer, rental company, and other ancillary expenses (does your venue only have 2 bathrooms, but you are having 120 guests? Time to start looking at portable restrooms!). And while it is nearly impossible to get an exact headcount until RSVPs are received, you can get a pretty close estimate using the WedSheet Guest List Planner tab and the unique "ranking" feature.
3.  Time to get in the car and go exploring- it's venue shopping day!
This is one of the most fun tasks in all of wedding planning. Choosing the venue where you get to celebrate one of the most meaningful and exciting days of your life is no easy feat, but it helps to provide a vision and framework for the rest of your decisions. Since you now have a working budget and a rough guest count, you can start searching and narrowing down the locations. Additionally, each venue can provide you with their availability, which will help you select the big date. Have fun with this process! Take a couple of weekends and go exploring. If you are checking out wineries as a possible venue- book a private tour! They will often offer complimentary tastings. Many hotels will also provide discounts to prospective couples as you tour their facilities.
Complete these three steps and you are on the way to planning the wedding of your dreams! Comment below with any other helpful "hints" you have found along your planning process.
https://www.wedsheet.com/wp-content/uploads/2017/11/wedsheet-3-things-to-consider-when-engaged2.jpg
800
1600
Morgan
https://www.wedsheet.com/wp-content/uploads/2017/04/wedsheet-logo1.png
Morgan
2017-11-28 09:29:18
2018-03-13 12:37:03
You're engaged! Now what? The first 3 things to think about...